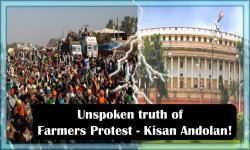 Farmers' Protest - Kisan Andolan​
Since 26 November 2019, thousands of farmers are protesting at several Delhi border points under Farmers' Protest or Kisan Andolan. These farmers are protesting against the new farm laws implemented by the Centre recently, — Farmers' Produce Trade and Commerce (Promotion and Facilitation) Act, 2020; the Farmers Empowerment and Protection) Agreement on Price Assurance and farm Services Act 2020 and the Essential Commodities (Amendment) Act, 2020.
Let us discuss the three laws and what was the conflict between the government's argument and farmer's assumptions.
Farm Laws That Have Created Chaos!​
Farmers' Produce Trade and Commerce (Promotion and Facilitation) Bill, 2020. : This particular bill allows farmers to sell their produce outside APMC Mandis.
Mind you it doesn't restrict farmers to sell at the existing Mandis nor it says of disbanding the Existing Mandi System.
Government's Argument: Since the existing system doesn't confine farmers to sell their products at existing Mandis, no farmers will be repulsed from continuing their trade with the existing System.
Along with, it'll pave a way for farmers to sell their products directly at the market or to any industry at a higher price through competitive bargain and thereby will increase their income to a great extend.
Farmers (Empowerment and Protection) Agreement on Price Assurance and Farm Services Bill, 2020: This mentioned bill allows farmers to go for contract farming meaning a pre-agreement between buyer and seller (farmers ) before production about quantity, quality, and price.
Government Argument: Although MSP has been increased over these years, amply, it was not sufficient/ can't be sufficient to improve the condition of farmers significantly due to APMC System which is legislated by respective State governments (who allegedly charges brokerage from Farmers).
This bill will allow farmers to go into a contract with potential buyers before production and that's how they don't need to go to Mandis and anywhere to find buyers.
This system will patronage the right price for farmers' agricultural products and forbid the middleman.
Essential Commodities (Amendment) Bill 2020: This bill has the provision of Removal of cereals, pulses, oilseed, edible oils, onion, and potatoes from the list of essential commodities
Does away with the imposition of stock limit except under exceptional conditions.
Government Argument: It will help in reducing wastage of produced as private investment in cold storage, warehouse, and food processing get attracted.
It will end the alleged harassment of the existing system through which the government can control the production, supply, and distribution of that commodity, and impose a stock limit.

Farmers Point Of View! Farmers' Protest - Kisan Andolan​

Firstly, Farmers are protesting because of the sense of insecurities that were fed into them.
They're worried about the existing system of MSP will get obliterated and they'll be forced to sell their products at a price lower than the current MSP to corporates.
Here are the reasons why the farmer is actually worried:

The farmers are demanding for Minimum Support Price for their produce which is not guaranteed in the new law.
Secondly, they cannot approach the court if any dispute arises and at the most, they may complain to the collector. What a collector can do in this regard. Can a civil servant decide against such a big corporate?
Third, after this farmer bill, private companies will offer more price for crops than government in the initial years (obviously farmers will more likely to sell their farm production to private companies) which likely end up in private companies getting the monopoly of the market and because no farmer will sell their crops to government and Sarkari mandi will cause collapse and their importance will become negligible.
And when this will happen farmers fear that private companies will now manipulate the prices (obviously private companies aren't there for the charity they too want profit). Practically this doubt is genuine because this usually happens in every sector, for example, JIO when Jio was introduced it was offering free everything but once it gained the required or enough users they started increasing the prices. What farmers want is that under no circumstances private will purchase will their farm production below MSP.. though the government has assured them that they will get the MSP this isn't mentioned in the bill.
If at all these bills are implemented, will the large-scale traders go to every small farmer to buy their requirements? They ultimately shall need a chain of middlemen, isn't it?
Now when the private companies can store the essential commodities (like pulses etc) farmers fear that once the private companies get the monopoly they will store the crops in huge quantities in their warehouse and when farmers go for sale they (private parties) will negotiate and lower the price of crops as they'll have enough farm production in their storage.

Few examples of farmer loss with new trends and techniques:
Amul
Sugarcane farmers have experience in contract farming. Mill owner does not pay to farmers their dues for years. Can the farmers fight them in courts?
What assurance is that the farmer's products shall be purchased in time and timely payment.
Already farmer has the liberty to sell tomato, onions and potato type cash crops in the free market and to anyone. Has it improved the condition of the farming community?
Lays
Corporate Farming: Farmers have already lost their land to the corporates in the name of corporate farming. A well-known brand of chips, Lays gave seeds, fertilizer, pesticides to the farmers. Later on, the company said it is not as per the size, shape, and color, and the farmers lost heavily. The corporates give advance. Two-three times if the corporate says the same thing, the farmers' land will be equal to the advance given by the company. The corporates have taken farmer's land. The government is not given any guarantee that such a loss will not be there.


Government's Failure In Handling Farmers' Protest - Kisan Andolan:​

11 rounds of talks but no results:
To break the impasse, the government which has so far held eleven rounds of talks with the farmers.
In the last round of talks on Wednesday when it offered to suspend the laws for 1-1.5 years and form a joint committee to find solutions, in return for protesting farmers going back to their respective homes from Delhi borders.
Farmer leaders, however, said they would settle for nothing less than a complete repeal of the laws, enacted in September last year, which they find pro-corporate, and a legal guarantee for the procurement of crops at government-fixed MSP.
The governing style of the present government is quite isolated. Take it the case of CAA, Demonetisation, or These Farmer Bills. The one thing that you'll find in common is "Negligence of Stakeholders" and "A Sense of Urgency" before implementing a major Reform.
In CAA, instead of the fact that no Indian is denied citizenship, a massive fear was implanted into some sections of people due to proper reaching out to Stakeholders before enforcement.
Similarly, in the present case, initially, the government didn't feel to start a conversation before enacting these three laws/bills, reaching out to farmers, making them convince and then to introduce these bills, rather, did the opposite.
And now when the protests are at their peak, the government to starts Sambaad with farmers. Government should talk to farmers and clear this and I mean not only to those who are protesting but to all farmers of India and clear their doubts and find a middle way which will benefit both parties.
Read more